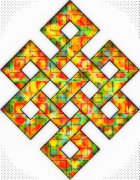 Dear colleagues!
The New Research of Tuva is delighted to announce a call for articles for a special issue (to be released in December as No. 4, 2016). It will focus on the topic of "
Information technologies in Tuvan philology studies
". Candidate of Philology, Docent M.V. Bavuu-Surun, director of "Turkic Studies" Scientific Educational Center of Tuvan State University will guest edit the issue.
Language is an important component of a peoples culture. Nowadays almost all the languages of small nations in Russian Federation are under the danger of disappearance, many of them will vanish in nearest future. This actualizes the task of keeping the language as a mean of communication and learning. Tuvan language is not an exception though it has been a full-scale mean of communication and learning for Tuvans just decades ago. Unfortunately, a gradual process of language deprivation is being enforced by globalization and became more intense on the bound of centuries. But the native speakers have not fully perceived the danger hanging over the Tuvan language.
Journal Editor