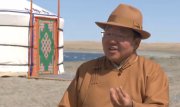 President Elbegdorj has walked in the steps of his country's history.
Born into a nomad family, he spent his young years on horseback as a herdsman. It was a life he loved with his parents and brothers. He could have stayed but change was sweeping across Mongolia.
After a stint in the army and university in Ukraine to study journalism he was swept up in his country's revolution over throwing decades of communist rule.
Now years later as President, the 48-year-old Elbegdorj is retracing his steps.