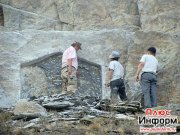 There is no end of miracles in Chaa-Khol district, just as throughout the entire republic. However, yet another place worth seeing will emerge around this area very soon. It is already being there. If you go from Chaa-Khol village towards the Shagonar water basin, you can see through the split of one of the rocks a large grayish niche. Its' contours resemble Buddhist niche closely. It is not the old and well-known Buddhist shrine with ancient Buddha rock engraving, which is, on the contrary, located deep down and constantly gets flooded by waters of the artificial sea. This is entirely new creation – a new rock-cut Buddhist shrine, where the works have launched.
The projects of saving the ancient bas-relief have been discussed for a long time, and eventually only three of them remained: to cut it out of the rock and to place it, for instance, in museum or temple; to imbed it in clear plastic; to make a copy and sanctify it. As a result, the third option has been chosen.
The Minister of Education and Science of Tuva, Doctor of Letters, Buddhist Kaadyr-ool Bicheldey has started implementing the project. The idea, as he says, belongs to His Holiness Dalai Lama XIV.
Irina Kachan, the Plus Inform. Translated by Emina Kyzyl-ool