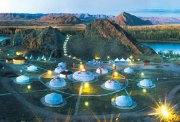 Traditional culture is what helps a nation to stay unique. The newly built Aldyn-Bulak ethnic cultural centre in Russia's Tyva Republic in southern Siberia aims to study and promote folklore, traditions and customs. The name 'Aldyn-Bulak' means 'golden spring'. Located 45 km from the capital Kyzyl, the centre is expected to boost ethno tourism in the area. The centre welcomed its first visitors earlier this month.
The construction of the Aldyn-Bulak started last June. While working on the project architects relied on two major principles: environmental awareness and ethnic flavor. The complex is made up of a yurt-style restaurant, four presidential VIP yurts, seven economy-class yurts, fivechums (tents) with a fireplace, a sports ground, pergolas, saunas, souvenir shops, administration building and parking lots. Apart from this, there is a school where one can learn the art of Khoomei,a Tuvan variant of throat singing. Khoomei is when a singer produces two or even three distinct pitches simultaneously.
The centre has recently launched a symbol of throat singing – Ovaa Khoomei, depicted in the form of a golden arrow targeted upwards.