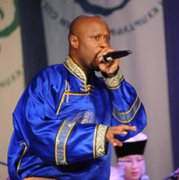 The grand opening of the International Festival of Throat Singing Performers Dembildey – 2012, with participation of guests from Japan, Mongolia, Canada, America, Norway, Spain, Australia, and Finland took place in Kyzyl, at the Tuvan National Theatre on July 6.
Joan Feynman, sibling of Richard Feynman, the founder of Friends of Tuva, physicist and Nobel Laureate, became the dearest guest of the Festival. Joan Feyman came to Tuva with her husband and friends. The Head of Tuva, Sholban Kara-ool, speaking at the event, warmly expressed Joan and Richard Feynman the gratitude for their love, attention and deep feel for Tuvan culture, as well as for their contribution to popularity of Tuva.
The Premier emphasized the special role of the prodigiously talented sons of Tuva - Kaigal-ool Khovalyg and Kongar-ool Ondar. Both of the performers are the Honoured Artists of Russian Federation, the National Khoomeizhys and favourites of Tuvan fellow citizens.
Press-service of the Government of RT. Translated by Emina Kyzyl-ool