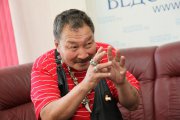 Lazo Dovuyevich was a participant in the Second International theatric - educational festival "Nauruz", which took place last week in Kazan. On one of festival nights, he performed an old shamanic ritual kamlanie on the shore of Lake Kaban. The purpose of the ritual is to bring health to the people of our city, and that they would all live in harmony. And that children would be born intelligent, healthy and talented. Several days ago he visited the editorial office of newspaper "Kazanskie vedomosti". -
Lazo Dovuyevich, was the invitation to the theatrical festival "Nauruz" unexpected for you?
- Yes, I was a little bit surprised, even though I have some relationship to art. Earlier I used to play with an amateur group, with an agitation team, and in the well-known state ensemble "Sayany". I worked in the capacity of both a leader and a soloist. Generally, I had to learn many professions. My older brother taught me to work with wood, my mother - to sew and cut. When I got married and had children, I sewed their shirts and diapers myself, using an old foot-pedal sewing machine. At home, I also made everything myself - the bed, furniture. A shaman has to be able to do everything.
Tuvaonline. Translated by Heda Jindrak