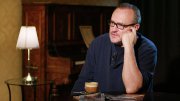 Producer Alexander Cheparukhin is the first man among Russian music industry representatives honored with the WOMEX Award, the International World Music Support and Development Exhibition (World Music Expo).
The WOMEX Award was established in 1999 and has been presented to its winners only 13 times, Mr. Cheparukhin told the RIA Novosti. The producer receives theProfessional Excellence Award, and there is the Artist Award as well.
Mr. Cheparukhin admitted he had been amazed by the news, especially since he had become the first man not only from Russia, but also from all over Eastern Europe to receive the Award.
"As I was informed in the letter from the Award administrators, I've received the prize for contribution in Russian music propaganda and for the promotion of the best world music standards in Russia," said Mr. Cheparukhin.
The producer added, he was very pleased to get the music community recognition and he "will try to keep it up".
RIA-Novosty. Translated by Emina Kyzyl-ool