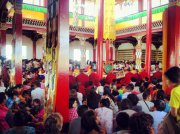 A ceremonial celebration was held in southern Siberia on Monday (July 23) to mark the opening of a newly rebuilt Buddhist temple - Ustuu-Khuree.
Some ten thousand people travelled to Chadan in Russia's Tuva region to attend the opening festivities, which included a procession with people carrying 1,000 Buddha statues led by a green horse, in addition to a prayer service and music festival.
The new temple is an exact replica of a Buddhist temple which was built in 1907 but destroyed in 1937 during the Stalin regime's anti-religious campaigns. It takes its name 'Ustuu Khuree' from the name of one of these destroyed temples. Ruins from the original building still stand in the region, marked by Buddhist prayer flags.
A traditional music festival was held there every year, but in 2008 construction of the new building began in a field near the destroyed temple.
"Now our new temple is the only Buddhist temple in Eurasia that has been rebuilt after being destroyed 75 years ago. No one thought that it would be restored - like a phoenix from the ashes - and with a thousand Buddhas!", head of the Ustuu-Khuree music festival Igor Dulush told Reuters.