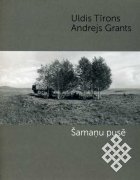 "Ṡamaṇupusē" is the title of the book released in the end of 2013 by the publishing house "Neputns" in Riga, Latvia. Uldis Tīrons, a journalist, philosopher and the editor-in-chief of the intellectual magazine Rigas Laiks is the author of the book which he worked on with his colleague-photographer Andrejs Grants. "Ṡamaṇupusē" ("In the shamans' direction"- dir. transl) is a summary of the author's visits to Tuva, the place he discovered for himself more than 20 years ago.
Uldis first visited Tuva back in 1989 while working on the multimedia project "Shamans of Tuva" for Riga Video Center which was meant to result in a CD, film and a book release. Five expeditions around Tuva took place during the period from 1989 to 1991. Unfortunately, due to the breakdown of USSR, the project never came to life. During his travels around the Republic, Uldis Tirons was meeting with shamans, researching and reading various literature related to shamanism.
But the dream to write a book never left him. Uldis intended to make it as an anthropological sketch about the engagement of Western and Eastern cultures, particularly about the increased interest of the Western researchers to shamanism and actual relations between them and Tuvan shamans.
Chimiza Lamajaa. Translation - Emina Kyzyl-ool, Luke Inglis