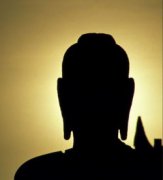 The works on the erection of the biggest statue of Buddha in Russia are drawing towards a completion, a representative of the Tuvan Buddhist Union Buyan Bashky says.
The construction of the 6 meters tall postament has already been finished on the Dogee Mountain. Tibetan artists have been working on the shape of the statue throughout May. Gigantic monument will be located in Kyzyl, the capital of the Republic of Tuva, on the top of Dogee Mountain and will be visible from all parts of the city, Buyan Bashky says.
At the very start of the project the statue was planned to be 40 meters tall, but changes have been made later with the result of reducing height of the monument to 21 meters, 15 meters - the figure of Buddha and 6 meters of the lotus throne.
The idea of the emerging of the statue was born several years ago, but due to the economical crisis and financial difficulties the works started just in 2011. All the construction is being made by means of community's donations and contributions, and not only financial.
Kyzyl Sibnovosti, Noviy Vek Channel. Translated by Emina Kyzyl-ool