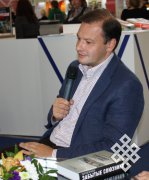 Today the Russian Exhibition Center within the framework of the XXV Moscow International Book Fair held a presentation of the book of the famous journalist and TV presenter Sergey Brilyov "Forgotten Allies in World War II" (Moscow, 2012). The book was presented to readers and journalists on the exhibition place of publishing house "Olma Media Group", which had published S. Brilyov's work.
The author of the book pointed out that this book was not about the great powers that were traditionally considered as the victors in World War II, but it was about the smallest states, who had also participated in the war, and who had also made a great contribution to the defeat of Nazi Germany.
S. Brilyov said that "of course, the losses of the small allies against our losses look like trifle, and I do not for a second lower the Soviet Union's role in the fight against fascism, but if you look at the statistics, for example, New Zealanders at that time lost every fifty taking into account a tiny population of New Zealand. They secured the victory in all corners of the world and they fought for us. Having used them up, we just "threw" them later on; I apologize for the contemporary expression. But what to do with it now? I believe this is the part of the war history which deserves to be registered at least. And it is up to everyone to admire it or not".
Chimiza Lamazhaa. Translated by Baylak Dongak