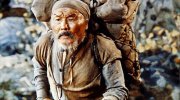 On September 15, it's going to be the 100th anniversary of Maksim Munzuk, the People's Artist of RSFSR, and Tuvan ASSR, who played the title role of Nanai hunter in the Oscar-winning film of Akira Kurosava Dersu Uzala.
Today, Dersu is the embodiment of the world soul, living in harmony both with himself and with the surrounding nature; he is the embodiment of unselfish and faithful friendship between people of different nations. By stepping from screen to reality, Dersu has aroused concern in the audience for the purity of human soul.
Centennial anniversary of Maksim Munzuk is not just an anniversary; it is the grounds for the further relationship and friendship development with other regions. It is the chance to talk about eco-tourism development in Tuva, about spiritual and moral education of younger people, and it is a great matter to familiarize once again the younger generation to the history of the THEATRE – the cradle of all the professional arts in Tuva.
Svetlana Munzuk. Translated by Emina Kyzyl-ool