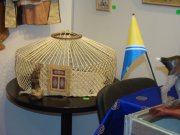 Government of Tuva approved a project of a law concerning "About protection of intangible cultural heritage of Republic Tyva", according to which it is proposed to regulate the expression, conservation and utilization of the spiritual heritage transmitted from generation to generation, and demonstrating the cultural variety of peoples of Republic Tyva. The remarkable Tuvan throat-singing, stone carving art, ancient traditions and rituals, including unique traditions of Russian culture, which have been conserved on the territory of the republic, folklore, national holidays - everything that is so remarkable and attractive about Tuva, will be included among the objects of intangible cultural heritage, and will be protected by law.
The project of this law, developed by Tuvan Ministry of culture, establishes the basic concepts of protection of cultural heritage, defines the types of objects of intangible heritage, ways of their application, defines the right of the citizens for access to and use of the intangible cultural heritage, and the right to express their cultural identity.
Government of Tuva. Translated by Heda Jindrak, Tuvaonline.