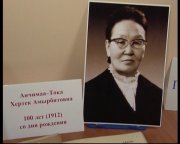 Khertek Amyrbitovna Anchymaa Toka commemoration evening arranged to coincide with her centennial anniversary was held at the National Museum of Tuva on October 26. Khertek Amyrbitovna was a Tuvan and Soviet statesperson, the first woman led the Supreme governing body of Tuva Malyi Khural. Relatives, colleagues, public figures, and politicians came to the meeting.
A close friend, a teammate and a colleague of Khertek Amyrbitovna Grigoriy Shirshin told he was always admiring her working capacity (hard working). He was consulting on all social and economic questions and was always getting an appropriate advice:
"Our joint business trips to Mongolia and to Novosibirsk have become the most unforgettable memories. Those were unforgettable days. Very few people remember that Khertek Amyrbitovna and I established the first amateur performances group in Kyzyl at school №3"
The niece of Khertek Amyrbitovna Chechek Arataa remembers her as a sympathetic and a very attentive person.
SibNovosti. Translated by Sailyk Oorzhak