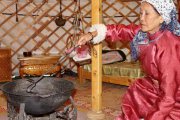 The yurt-museum is located not far from national Museum in Kyzyl; it complements the cultural treasure-house of original expositions, immersing the visitors in the daily life of Tuvans. - What is the main difference between a yurt and other types of dwellings? O.D.: A yurt is, first of all, a typical nomadic dwelling. That is why it is easy to take it apart and transport it, then reassemble it again in two hours at the most, depending on the size of the yurt. The yurt and its interior furnishings are made from light materials by hand, in conditions of home craft production, and everything is adapted for nomadic way of life. The rugs are traditionally made from white sheep wool, and decorated with colored embroidery. Chests and headboards of beds are also decorated with embroidery. The chests always come in pairs in Tuva - two, four, six, eight…
- The chests always stand opposite the yurt entrance, but to whom do they belong?
O.D.: Those on the right belong to the lady of the household and the children, those on the left belong to the master of the household. The master sits closer to the door, he protects the living space and watches the livestock.
Maxim Kochetkov, Velikaya Epokha. Translated by Heda Jindrak, Tuvaonline