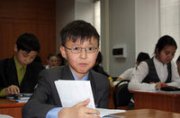 Lecturers of the Tuvan State University have won a grant for teaching English to children from large and low-income families.
The selection process took place in the main building of the University on October 20.
More than 20 children supported by their parents gathered in the University auditorium. Just before the examination, the project felicitator, the Candidate of Pedagogical Sciences Elena Baykalova asked parents to fill in the required papers for their children, to provide the certificates confirming their social standing and to indicate the phone numbers. The children who match all the criteria will have the opportunity for enhanced English language studying and for building leadership skills.
Elena Baykalova:
It is the second group of children. We won a grant last year as well; as a result, 10 children are studying English under this program. All of them are in the "Orlyonok" children's camp now where they continue learning English
Sibnovosti - Noviy Vek. Translated by Emina Kyzyl-ool