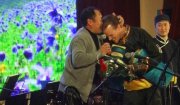 The first Sean Quirk's solo concert was held in the Folk Arts House in Kyzyl on October 19. Sean Quirk is the Honoured Artist of Tuva, the soloist of the Tuvan National Orchestra, an American by birth, but a Tuvan by calling. His family, friends, and colleagues came to support the musician. There were so many the Honored and the People's artists performing on one stage that it felt over-the-top: Alash Folk Ensemble, People's Khoomeizhys of Tuva Andrey Mongush, Igor Koshkendey, Bady-Dorzhu Ondar, Kongar-ool Ondar.
Back in 2003, 25-year old American from Milwaukee city, WI heard the throat singing on the CD given by chance by one of his friends. It was khoomey sung by the Huun-Huur-Tu Ensemble, which amazed Sean so deeply that he fell in love with the unusual sounds of Tuvan musicians.
The secret of "how are they signing it" was haunting his mind. He started trying to copy the sounds, but had no luck. Then Sean takes risks and decides to go to Tuva with the main object to perceive throat singing.
He spent whole year in Mongun-Taiga, then in Ulug-Khem district, and realized that the mysterious Tuva does not let him go. Sean's colleagues from the National Orchestra know about his adventures and were sharing them a little with those who came to see the American who speaks fluently Tuvan language and sings khoomey.
Today Sean Quirk is a rightful member of the best musical collective of Tuva – the National Orchestra. He can throat sing, plays different folk instruments, knows and cherish Tuvan traditions.
He met his wife Svetlana in Kyzyl. Her ethnicity is Tuvan (who would doubt). They have three beautiful kids. Sean dedicated to his wife and his muse one of the songs during the concert. The musician confessed his major dream was having his kids to grow up worthy people of Tuva and America, and having his passion - throat singing- to become more popular and glorify Tuva all over the world.
"When you throat sing, you imagine the landscapes, the mountains, and all of the Tuva. That's why if you want to learn performing khoomey, you actually need to live here", Sean says.