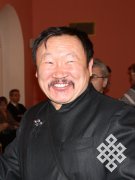 Merited Artist of Russian Federation, People's Khoomeiji and Honored Educator of the Republic of Tuva, one the most renowned Tuvans in the world, throat singer, musician, teacher Kongar-ool Ondar has died today in Kyzyl aged 52.
His official birthday was March 29, 1962 and Kongar-ool Ondar confessed this date was very conventional and he always marked his birthday twice in a year – on March, 29 and December, 4. Recently all the Tuva and throat singer's friends and fans celebrated his 50th anniversary on "Dembildey-2012" festival. Kongar-ool Ondar was one of the most magisterial throat singers in the world. He teached a whole new generation of young musicians in Tuva.
Kongar-ool Ondar has told the story of his dramatical life full of ups and downs in a big biographical interview for "The Center of Asia" newspaper last year.
"The New Research of Tuva" expresses its sincere condolences to all the relatives and friends of Kongar-ool Ondar and deeply bewails the grievous loss of Tuvan culture.