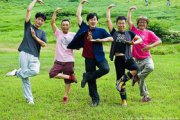 On 27 September, at the V. Kok-ool Tuvan Theater of Music and Drama, a meeting took place with the group "Hikashu", meaning "Elegy" in translation. The leader of this Japanese group, Makigami Koichi, has been to Tuva many times, and this time he brought the entire group with him: Sakaide-san, Mita-san, Shimizu-san, Sato-san (Translator's note: Sakaide Masami, Mita Freeman, Shimizu Kazuto, Sato Masaharu respectively).
The meeting was organized by the Center of Tuvan-Japanese friendship "Kargyraa". The Center, opened since march of this year, works closely with Japanese center "Khoomei", headed by Makigami Koichi himself.
"Hikashu" is very popular in Japan, USA, and other countries; right now the group is touring in Russia.