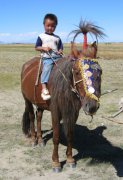 Tuvans in China live in the Altai aimak of Xinjiang -Uighur autonomous region of Chinese People's Republic, in picturesque mountains and steppes of the Altai Mountains. This territory borders in the north with Russia, in the west - Kazakhstan, and east - with Mongolia.
Representatives of various ethnic backgrounds mingle in the Altai aimak: Chinese, Kazakhs, Dunkans, Mongols, Uighurs. Many Kazakhs can be counted in the compact Tuvan settlements (Ak-Khaba, Khanas, Khom, Ala-Khaak, Kok-Dogai). Tuvan families also live in towns Altai, Burchin, and Khaba.
Igor Irgit, who was the head of State committee for foreign economic connections at the time, was the first one to visit the Chinese Tuvans in 1992, and Marina Mongush, the scholar - ethnographer, visited them in1993.