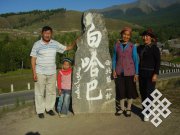 They were permitted to go back to their original lands only in 1982. They had to start all over again, to clear the pastures, to teach their children herding skills. That was 29 years ago. It is a short time span in the life of a nation, but the Tuvans managed to re-establish much during that time.
In the place of Honor - Flag and heraldic crest of their Historical Homeland
To this day, they keep the customs of their ancestors regarding introductions. Meeting a guest, they always ask from which tribe and clan he is, and his age. A person's age is very important for the carriers of the traditions - it serves to determine the etiquette of behavior with the stranger.
Because of the predominance of other language populations in the places where the Tuvans live, their language has many words borrowed from Kazakh, Mongolian, and Chinese languages. It shows, in particular, in the phonetic and lexical peculiarities of their daily speech.