Play to the Utmost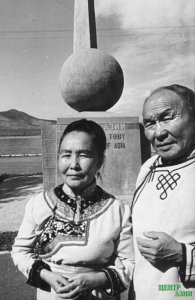 My childhood impression: Mama and Papa were real wizards - they could turn into anybody they wanted!
We children were the witnesses of the birth of these transformations. They were complicated births: sometimes there were arguments during the rehearsal process, which sometimes, even though rarely, turned into quarrels.
"Why are they so tormented about it? Why?" - I found the answer to my childish question already as a grown-up, in Papa's notes:
"There is this rule - any role, even without words, should be wrung out , to the maximum of all the possibilities; any role should be played to the utmost."
And that is how they played.
The scope of my parents' roles in Tuvan theater was huge; the roles were from world, Soviet, Russian, and national drama. And each of those roles was a tribute to its time.
Salchak Toka's play "Tongur-ool: Maxim - Tongur-ool, Kara-kys - Serzhinmaa.
"The Young Guard": - a play after Alexander Fadeyev's novel: Kara-kys - Ulyana Gromova, Maxim - Andrei Valko.
Nikolai Gogol's "Inspector": Kara-kys - Mayor's wife Maria Antonovna, Maxim - Khlestakov's servant Osip.
Friedrich Schiller's "Intrigue and Love": Maxim - Wurm, Kara-kys - Luisa. I remember very well how in 1968 the audience enthusiastically applauded Mama in the role of young Luisa in the show directed by Siin-ool Oyun, and that was the year when the actress turned 50!
Maxim Munzuk also played in "Vassa Zheleznova", a play by his "Godfather" - Maxim Gorky, whose name he received at the age of 22. And again paired with his wife: Maxim - Prokhor, and Kara-kys - Natalia.
In a play for children "Pavlik Morozov" by Vitaly Gubarev, Kara-kys incarnated into the young pioneer Pavlik, and Maxim played one of those who destroyed him, kulak Ivanov. And Papa played a positive revolutionary personage - the sailor Zhukhrai - in "How the steel was tempered", from Nikolai Ostrovsky's novel.
Maxim Munzuk even transformed himself into Vladimir Lenin. The selection of actors to play the leader of the world's proletariat was very strict, not only artistic council, but communist party organs were involved as well.
For Lenin's role in Nikolai Pogodin's "A Man with a Gun", two actors were confirmed: Oleg Namdar and Maxim Munzuk. The candidates for this very responsible role were sent off to Moscow, and the make-up expert Khandyzhaa Kanchyyr-ool was sent off along with them. She was specially trained at "Mosfilm", and our Khandyzhaa Konstantinovna did dot disappoint us; in the following years, she always beautifully executed the complicated make-up of the image of the Leader.
Oleg Dondukovich became the chief Tuvan Lenin, because he corresponded to the image with his whole being, and Papa was his double. He did not go on stage as the leader in front of the audiences very often, but he recalled it with warmth and pride. And mama played the wife of soldier Ivan Shadrin, who went to the revolutionary Petrograd with a letter to Lenin from the front.
In the rendition of Kara-kys, Katerina in Alexander Ostrovsky's "Storm" spoke in Tuvan, as well as the nurse in Shakespeare's "Romeo and Juliet", Olga in Leonid Leonov's "Invasion", Valya in Konstantin Simonov's "Russian people".
Her heroines not just spoke, they sand as well, after all, in those years theater fully corresponded to its name - Theater of music and drama: musical productions had a great scope. Productions of all the musical shows, operettas - "Khanum's escapades" "The Sea Knot" "Your Friends are Waiting" - were extremely popular. Among the singing heroines of Kara-kys were Sofia in musical comedy "Wedding in Malinovka", and Odarka in operetta "Zaporozhets across the Danube".
This song is only yours
Kara-kys Munzuk's remarkable voice was highly prized by Irma Jaunzem, the world-famous collector of folk songs of various nations, who sang them in the original languages.
After becoming interested in Tuvan folk songs, Irma Petrovna came to Kyzyl in 1948. She met the performers, including Kara-kys. When she heard the folk song "Bai-la Khemchiim" "Rich Khemchik", she wanted to include it in her repertoire, but later she wrote to the singer: "This beautiful song is only yours, Kara-kys."
Kara-kys Nomzatovna wrote verse, many of which later turned into songs: there are about fifty of them. Her first collection "Meen yrlarym" - "My songs" was published in Kyzyl in 1968, to Mama's fiftieth anniversary, and the second one - "Yrym kuttulup kel" - "Pour out, my song" - was released in 1989.
The many years of work of the Munzuks resulted in several collections of Tuvan folk songs: the first one - "Yrlar" was published in 1956, the second one "Tyva ulustun yrlary" in 1973. Much effort was put into this work; they transcribed the folk songs in musical notations, and worked up the texts as well.
They got involved in collecting folk songs from the very outset of their artistic life. At first this was motivated by search for new repertoire, then the activity turned into an enthusiasm, and with time, into serious work.
Beside that, they were editors of Viktor Kok-ool's song collection "Bailak churtum" - "My rich country", and a collection about the first Tuvan composer, musician Alexander Laptan.
And Mama and Papa used to compose totally new texts to folk, mostly chastushka-type melodies. New duets were born this way, and "A-shu, dekei-oo!" and "Saanchy-bile kombainer" (Milkmaid and combine-driver", "Azhyl-bile emnedip al" - "Heal yourself with work" were among the most popular.
There were songs enough for several full-length programs. The repertoire was chosen conscientiously and frequently refreshed, the songs were performed in Tuvan, Russian, Khakass, Kazakh, Kirghiz and Tatar languages.
They were involved in concert activities until the end of their life, and at each of their performances, the audiences requested their most-beloved songs: Kara-kys Nomzatovna - "Bai=la Khemchiim", and Maxim Monguzhukovich - "Even though grey, I am still young", which he sang in Tuvan and Russian, and dedicated to his wife.
At the Post of Tongur-ool and Kara
Each of them had their main roles throughout their acting lives. Mama's was Kara from "Khaiyraan bot", and Papa's - Tongur-ool from the play of the same name.
"Khaiyraan bot" is a drama of the love of Kara and Sedip, written by Viktor Kok-ool back in 1936. At that time it was a short one-act play, and as Mama recalled, she did not play the main heroine but her sister Uran.
Later, at assignment of the artistic head, director and pedagogue Ivan Yakovlevich Ispolnev, who came from Moscow to teach Tuvan artists, the author finished the work, and the director presented a new, full-length production. Kara-kys Munzuk was cast in the main role. Since that time, she is considered the first actress of the role of Kara, and she presented this role on stage at least a thousand times. The same thing happened with Salchak Toka's "Tongur-ool". In its original variant, the play was called "Three years in the party post", and from 1938-1930 it was included in the program of propaganda teams that were traveling to the districts of the republic to educate the arats. Back then, Tongur-ool was played by Viktor Kok-ool. When Ivan Ispolnev started producing the finished play with a new name, he assigned Maxim Munzuk to the role of Tongur-ool, the village party secretary - incompetent and useless person, who, finally, became re-educated, as the spirit of the times demanded.
After Papa, the party secretary was played in turn by Lyundup Solun-ool and Alexander Salchak. And after Mama, Mariya Solun-ool incarnated the immortal Kara, then Barynmaa Dadar, Tamara Ondar, Galina Munzuk, Elvira Dokulak, Luiza Mortai-ool, and Nadezhda Oorzhak.
Your Time is Over
The period of my parents' active work on the stage was from the birth of Tu7van theater - 1936 - until 1970.
Problems began in 1970: young graduates of the best theatre colleges of the country began to push out the first generation of theater actors. They started to tell my parents openly: "Your time is over." They understood everything: it was time to vacate the road for the young ones, but I could feel their emotions.
This period in their lives was bitterly remembered by Merited actress of Tuvan ASSR, Mariam Ramazanova, for whom theater was also the chief meaning of her life. When the actress could not work on the stage anymore after a serious illness, she devoted herself to theater history: her many articles about actors, directors, and productions were published in newspapers "Tuvan Youth" and "Tuvinskaya pravda" on a regular basis. This is what Mariam Alexeyevna wrote in 1992, two years before she left this life:
"When I first came to the theater studio in 1942, Munzuk was older that all the others - both in age and in creative experience. On all the tours to the remote districts with concerts and shows, Munzuk was always the caring and demanding team leader. And we usually performed on open squares, next to yurts, on forest clearings, and right on the board of our only, theater truck, which survived many accidents and fires. And in any circumstances, he always kept up his good humor. His charisma back then and in all the following years was always unsurpassable; there was no way to mistake Munzuk on the stage with anybody else.
In our theater we had many actor individual personalities, but Munzuk was, if maybe not the brightest star, then definitely extremely bright. He knew a lot and could do a lot. He right away became the first helper to our beloved pedagogue-director Ivan Yakovlevich Ispolnev, and produced the shows together with him.
We, the older generation of actors of Tuvan theater remember the triumphant shows, packed auditoria, endless applause. There was always a lot of applause falling to the share of both Munzuks - Maxim Monguzhukovich and Kara-kys Nomzatovna.
But I also recall other things. When Maxim celebrated his sixtieth birthday, some "well-wishers" began straight away to try to push out of the theater the actor who was the pride and glory of Tuvan scene art.
Just like when they tried to send the ageless Kara-kys into retirement when she turned 50, and then at 55.
I can't recall these attempts without tears: such talented people can productively work on the stage until the end of their days; there are many such examples in Russian and world art. My heart was hurting for them, when two such truly great actors who knew life and have felt both happiness and grief, were considered superfluous!
But it was impossible to break Munzuk. Precisely in those days which were so hard for him and their whole family, he obtained world fame as a film actor. I can't hold back from presenting some lines from a letter of one of the viewers: "Munzuk and Dersu Uzala, - this is what bed-ridden Sergei Konovalov from Voronezh, who only saw Maxim Monguzhukovich on the screen, wrote, - for us, the audience, are now one and the same person. The face of wisdom and kindness of ages, that does not come easily in old age."
When I first became seriously ill in the Sixties, he was the first one at the theater to react, and together with Kara-kys came to visit me.
Munzuk always remained Munzuk: in his endless trips around the republic with performances or concerts, he always donated the profits to the Peace Foundation. And in the way he always stubbornly maintained the unity of the collective during stormy meetings at the theater, its international character and brotherhood, which originated during the years when the theater was born and founded..
Another thing that impresses me about Maxim Monguzhukovich are his firm personal convictions. He is not one of those whose ideals change, like a weather-vane."
And this is from Munzuk's thoughts about the future of his theater: "The future of theater depends on intelligence, sensibilities and taste, but chiefly on selflessness."
And more - about time and politics:
"I am an old hunter. And I would compare politics to binoculars. Binoculars enlarge everything and determine the direction of next transition. It is the same with politics: it determines the future. And I comprehend this: none of our current politicians have good binoculars.
Originating from Blue Rivers
Those who told the Munzuks "your time is over" were very mistaken. At the age of 65, when in 1975 the film "Dersu Uzala " by the emperor of Japanese and world cinema Akira Kurosawa was released, Maxim Munzuk acquired cinematographic fame.
Before that, Papa had some small film experience. The first film that he took part in was "Lyudi golubykh rek" (People of the Blue Rivers), a production of "Leninfilm" studio, directed by Andrei Alsolon. It was filmed in 1959. The premiere was in Kyzyl in 1960.
The theme is simple, in the spirit of those times - the genre of production melodrama. Mergen returns to his native Tuva. He has become an engineer and dreams of working for the good of his native country. And Tuva is turning more beautiful with every new day: new houses are being built, electricity comes to even the most remote districts. But only the chairman of the kolkhoz Elbek can't understand that a real big bridge has to be built over a turbulent mountain river.
But old Kavai-ool's son Adar has forgotten his countrymen and remained in the big city. The old man tried to bring his son back home but it did not work out. Adar is being eagerly awaited by his bride Oyumaa; she does not like bootlicker Dazhi, who is persistently courting her. But, as they say, there would be no good fortune without a little help from misfortune. Big waters swept away the old bridge. That forced the chairman to agree to the construction of a new bridge. Adar came to his senses as well - he returned home. His friends and bride welcomed him back with joy.
One of the main roles - old man Kavai-ool, was splayed by Nikolai Olzei-ool. Adar - Siin-ool Oyun, young specialist Mergen - Chylbak-ool Mortai-ool. Maxim Munzuk got the secondary role of old man Delger.
This poster movie did not leave any bright footprints in the history of cinematography, but it became significant for Tuvan actors, even though they did not get all the main roles, some of which were given to visiting actors.
However, almost all the actors and their children as well were filmed in crowd scenes and episodes. It was the first absorbing experience of film-making for them.
The movie was filmed in Tuva: in Dzun-Khemchik district - in Bazhyn-Alaak village then the center of sovkhoz "Iskra", and in Tandy district - on Elegest river.
The children, including me, got roles in mass scenes: we were the spectators during national wrestling khuresh. Only no matter how many times I saw the film later, I did not see myself. That hurt, of course. But my little sister Galya, and Galya Laptan and Oleg Kysygbai came out very well in the scene: the three of them were sitting very high - on a camel.
Migration with Valeriy Zolotukhin
Papa's second role was in an already much more profitable film - detective movie "Disappearance of a witness", in 1971.
Here he worked with Valeriy Zolotukhin, who returned to Soviet screen on demand by the viewers in the role of Lieutenant Vasiliy Seryozhkin with his song "Oy, moroz, moroz". "Disappearance of a witness" is a sequel of "Master of the Taiga", filmed on many requests by viewers.
Officer Vasiliy Seryozhkin is sent to serve in another district. Within the first few days of his duty, the body of zoologist Kalganov is discovered on the shore of Lysaya Kosa; he died of gunshot wound from a hunting rifle. There is no evidence at the crime scene except for a footprint of a size 37 sneaker.
Munzuk played a hunter-guide named Tekhe in this film.
Right behind Valeriy Zolotukhin, in 1978 Maxim Munzuk migrated into the third detective story about a nation-loving militia-man - into a film "Preliminary investigation", a continuation of the series about the taiga detective.
Zolotukhin - Seryozhkin, now already in the rank of a captain leads an investigation in the Far East, he sings his song "Oy, moroz, moroz" already with his son, who is played by his real son Denis. And Maxim Munzuk plays the Udegei Archyo.
TO BE FINISHED NEXT WEEK