Bashky Kurosawa is displeased with me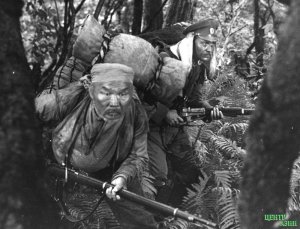 The film "Disappearance of a witness" turned into a trampoline for Papa that gave him the final boost into cinematographic Olympus. Akira Kurosawa, the director of world-renown, when he saw the movie, cast the Tuvan actor Maxim Munzuk for the title role of his film "Dersu Uzala".
Papa used to tell us that Kurosawa, after reading Vladimir Arseniev's books "Po Ussuriyskomu krayu" (In the Ussuri land) and "Dersu Uzala" was so absorbed with the image of Dersu, that he simply dreamed about bringing the books to the screen, and he was happy when such an opportunity presented itself.
The filming of the Soviet-Japanese co-production film took place in 1974 in the Ussuri taiga, in the district of the town of Arsenievo; Maxim Munzuk received the honorary citizenship of this town on 23 October 1975, after the filming was finished.
The first day of the filming was 28 May, and the last scene was filmed already in 1975, on 14 January.
Our parents were rarely separated from one another. If there were any separations, they were short. This working trip to the Far East associated with the filming of "Dersu Uzala" was the first separation of such length, and they wrote to one another almost every day. In every letter, and they were all kept in the family, Papa described everything in great detail.
"Today we were shooting a very difficult episode, - he wrote - and I felt that Bashky was displeased with me. He patiently explained the scene to me, and got the desired result without special tension. I was the one who was more anxious. I am astonished by his inner strength, endurance and patience with actors, anybody else would have yelled at me long before that time."
Kurosawa and Munzuk were age-mates - they ere both born in 1910, the first on 23 March, the other on 2 May. But despite that, Papa always referred to the director with the respectful Tuvan word Bashky. And he always respectfully wrote this word - meaning "Teacher" in translation - with the capital letter.
From Papa's letters, we had a mental image of Kurosawa. First of all - very tall. Papa wrote: if the director did not slouch, he would be even taller. Munzuk was not tall - only 1 meter 59 centimeters, and in his eyes Kurosawa with his 1.81 meters was almost a giant.
From Papa's descriptions of the director: very calm person always in dark glasses, with a slightly hoarse voice, sparse with praise and laughter, reticent, very modest and a tireless worker. At first things were very difficult for Papa: there was the lack of cinematographic experience and the daily tension of fast pace of the shooting process. Reading the letters, we felt his anxiety and were upset: will he be able to tolerate the pace to the end? But his letters became more and more confident as time went on, more optimistic.
Thanks to the help of Yuri Solomin, an experienced actor, and his own capacity for hard work, Papa quickly dealt with his problems and inconspicuously adjusted to the filming pace.
He is pure like a child
Papa especially valued the director's reticent praise to his address.
There is this episode in the film: Dersu Uzala leaps into the river from the raft and hangs onto a root sticking out of the water. The river is very turbulent, and the director prepared a stunt actor for the scene. The stunt man made the leap successfully several times during rehearsals. But father insisted: no stunt man is necessary, I will do the leap myself!
Kurosawa thought for a long time, could not decide. In the end he permitted it . Camera, everybody froze, silence, only the sounds of running water. Munzuk leaps, and a loud "Uraaa!" sounded through the taiga. All the members of the team congratulated him, and Akira Kurosawa, after shooting the scene, silently looks in his eyes and hugs him. Later Papa often remembered this moment and said: "That was Bashky's highest praise."
"We all got used to the fact that Bashky was always in dark glasses, but suddenly I wanted to take them off and look deeper," - Papa wrote.
And this chance - to look into the great director's eyes - showed up during a shaving session. The film team became quite hairy and bearded with time, and brought in a barber to put them in order. Akira Kurosawa also decided to get a shave and a haircut. During that procedure, of course he had to take off his dark glasses, and Papa's dream came true: he managed to look in the eyes of this astonishing man. He wrote: "Kurosawa is kindness itself, he is pure like a child, and his oblique eyes give him a special charm!" and then he sent us a photograph where he documented this moment.
He wrote a lot about other episodes from the film, about the tiger: it turned out that this was an old friend from the "Disappearance of a witness".
He wrote about an unpleasant surprise, which was brought about by weather: in 1974 it became cold much earlier than usual in the Ussuri taiga, and all the leaves fell from the trees because of it. And the fall scenes still weren't finished.
What was there to do? The team was confused, but Kurosawa, outwardly quite calm, after some silent thinking ordered artificial laves to be brought from Japan. The leaves were delivered, and everybody worked on rebuilding the taiga, fastening the leaves to the trees.
The way right to the heart - without blood
In the few free moments, which were mostly occasioned by meteorological conditions, Kurosawa went into seclusion. He would go to higher places, where he had a better view of the area, with a beautiful view of the taiga. He just sat and looked.
Father said: "At those times we tried not to disturb him, to stay out of sight."
I think that at those times Kurosawa felt especially acutely his relationship with this beautiful nature; the theme of entire film "Dersu Uzala" is saturated with this subtle thread: man and nature.
After the premiere of the film in Tuva, our parents' friends often came to visit us, friends from beyond the Sayan mountains, and discussed the film. They said that "Dersu Uzala" was different from other Kurosawa's films. For some it was too bland, they believed that in Arseniev's book it was possible to find more scenes with conflict, and put more blood into the script.
And Papa would explain that from the first, Kurosawa renounced all the bloody possibilities, and specifically asked the script writer Yuri Nagibin to stick to the main theme: nature and man, the purity of the surrounding world. The film came out calm, beautiful, philosophical and very simple as to artistic means. In it, Kurosawa chose the most direct path to human heart.
And Papa had an excellent understanding of the director, because he was like that himself - a child of nature, a part of it.
"Is the Tuvans' mass attraction to art, to pictorial self-expression in this world by chance or not? - Munzuk pondered in his notes. - In my opinion, it is not by chance. It can be explained, first of all, by the beauty and variety of nature."
Everything in Life is - Important
Papa was emotional and had a very loud voice. But Kurosawa, even during the shooting, used to order "Camera!" in a quiet voice, yet everybody heard.
Papa said about this: "Next to someone like this, you willy-nilly begin to act like him, an you become calmer." And he laughed at himself. And really, he became somewhat more sedate.
And after trips together to cinema festivals in Moscow, Frankfurt-am-Main, to the film premiere in Japan, and after associating with many personalities famous in the film world, Papa developed even greater respect for the director. He said that during all these travels he never met anybody as modest as Kurosawa.
"My daughter, everything in life is important. Any little detail is a component of the important whole. We simply do not think about this, but when you look deeper, everything has significance," - this is what Papa told me when he was 82.
For Kurosawa also nothing was too small. Until the end of his life, greeting cards used to come to Tuva from Japan: New Year and Shagaa - Lunar New Year - greetings to Papa every year.
Papa answered, but sometimes he forgot. But Akira Kurosawa never did. He was truly great: he remembered our Papa - a modest worker Maxim Munzuk.
The Wise Old Men of Soviet Union
From the time he was sixty-five to eighty years, Papa put in a lot of work in films: after "Dersu Uzala was released, film offers poured in one after another.
Both the beginning and experienced, famous directors saw precisely Munzuk in the image of a wise old man and experienced hunter - Gleb Panfilov, Andron Mikhalkov-Konchalovskiy. There as nothing to be done about it - it was type-casting.
Among the films with Papa from 1977 to 1990 - "Sibiriada", "Diamond trail", "In the Ruler's Footsteps", "The last hunt", 'A Walk worthy of Men", "Valentina", "The Fight", "The Order", "Divination from a Ram's Shoulder-blade", "Vengeance", "Under the Aurora Borealis". Udegei, Eskimo, Evenk, Koryak, Kalmyk, Korean - Maxim Munzuk played old men of all possible ethnicities of the Soviet Union in main and secondary roles.
After the Dersu role, there were so many offers that Papa had to refuse some of them - if the scenario and a standard image did not warm his heart. And it was not even possible to play all the old men of the taiga of the huge country.
Two films from this period are especially close to my heart: "The Fight" and "Divination from a Ram's Shoulder-blade".
"The Fight", because two other family members played in it beside Papa. And Papa's main film partner was Armen Dzhigarkhan, who played the criminal Stepan, who was re-educated because of the Koryak hunter Komo, played by Maxim Munzuk.
TV movie "The Fight" was filmed in 1982 in "Armenfilm" studio. Komo - one of the best hunters of the settlement - was getting ready to go away to the tundra, in order to die there far from people, as was the custom of his ancestors. Regardless of the disease tormenting him, the hero decides to fulfill a last wish and is going to deliver a large sum of money to a distant settlement. On the way, the old man meets Stepan, who is running from jail. Under Komo's influence, Stepan reconsiders his life attitudes and helps the old man to deliver the money to its destination.
In this film with an edifying theme so typical of the Soviet times, Komo's wife was played by the actor's real wife - Kara-kys Munzuk, and his grandson was played by his real grandson Ayas, Galina's older son.
But "Divination from a Ram's Shoulder-blade" is already a film of the perestroika period, when previously forbidden pages of the hard history of our country were beginning to open for us. It was filmed by Riga film studio in 1988, with director Ada Neretnietse.
The script author Oleg Mandzhiev recalled that the scenario about the lives of repressed peoples was written long before, when he never even believed that it would ever be produced: "That pain simply sat in my soul for long years and never left". The Riga studio risked producing the film which was not approved by the State Security Committee.
The action of the film takes place in the early '50's in a small Siberian village, where the fates of exiled Latvians, Kalmyks, and Russians cross. The wise and sensible healer-herbalist, old man Andzha with his grandson Lidzhukha, exiled from Kalmykia are among them. The grandfather had been unjustly accused of aiding escaped convicts and arrested: the grandson has a difficult life ahead of him: he is shunned by many, but his friends do not abandon him in trouble.
The role of the Grandfather - Kalmyk was played by Maxim Munzuk, and his grandson Lidzhukha by a Kalmyk schoolboy from Elista, Tseren Tsatkhlanov.
The premiere of "Divination from a Ram's Shoulder-blade" was in Kyzyl - at the "Naiyral" movie theater. The director, Ada Neretnietse could not come, and the film was introduced by cameraman Martynsh Kleins.
After the showing there was a discussion, a quite stormy one. I remember that there were also very negative, sharp evaluations: nonsense, nothing like that has ever happened in our history, why show something like that.
For me, this film became a revelation, which showed Papa's acting abilities in a new light.
It is Happiness to have Children
Evaluating his life towards its conclusion, Papa considered himself a very fortunate person. "Good fortune gave me the happiness to have children and family."
Maxim Munzuk's family - that is his beloved wife Kara-kys and their five children.
The oldest, Mergen, was born on 18 December 1941. He has two sons: the older, Maxim, works for FSB, the younger, Mergen, is a lawyer. Maxim, named after his grandfather, has two children - Ilya and Mariya.
The second son Orlan - was born 3 April 1943, he is not with us anymore, he left this life on 1 January 2006. He had two daughters - Ayana and Alina. Ayana's son - Amir - is studying in Sankt-Peterburg, and he is a multiple winner of international and Russian karate competitions. Alina has a son, Viktor, who is a student.
Eres, the youngest of the brothers, was born on 6 June 1946; he also is not with us anymore, having died on 21 April 2003. He had no children.
The next in seniority is myself, Svetlana, born 17 November 1951. My son Saidash is a private entrepreneur, and his son, my grandson Syldys, is a programmer. And my daughter Sayana, who is a master-hairdresser, gave me my granddaughter Katerina.
The youngest, Galina, our favorite, Galchonok, was born 26 September 1955. She has two sons: Ayas, who is a veteran of the Militia. Artysh is a student, a future Japanologist, who is studying the Japanese language in Vladivostok, at the Far East Federal University.
Our oldest brother Mergen was an example to all of us. Man of few words, very calm, he was remarkable for his un-childlike reason since he was a child. He was very independent. And our parents always treated him with special respect and consideration.
When Mergen finished school, Mama and Papa were on tour as usual. He made his decision independently: to be a pilot. He sent a telegram to our patents with a request to sent him 600 rubles. It was a large amount of money at that time, before the financial reform of 1961, but our parents sent it without questioning it: Mergen knew what he was doing. Mergen went to the Orenburg region - to Buguruslan.
He was accepted, graduated from the Buguruslan flight school, then from Kirovograd school of higher flight preparation.
Mergen became a remarkable pilot. He was the first Tuvan pilot, to sit behind the steering of An-24 and L-410 airplanes, then the commander of the crew, and Distinguished member of the air fleet. At the same time he never abandoned his interest in music - he was the only one of us to finish music school. The Music collective of Tuvan air fleet with Mergen Munzuk at the piano often performed in Leningrad at airmen's amateur artistic conventions.
Orlan became an engineer; he finished the Siberian Road Works Institute in Omsk and worked for many years in auto-transport of Tuvan electricity network.
Eres was an artist at the Tuvan theater of Music and Drama, creating decorations for the shows.
Svetlana became a director in TV, worked for "Tyva" TV company from 1977 to 2005. Merited culture worker of Republic Tyva, and the director and chief co-ordinator of ecologic cinematic festival "Living Footprints of Dersu". Since 2005, three adult and two children's festivals have been held.
The youngest daughter went in the footprints of her parents - she became an actress. In 1978, when she finished the Shchukin State Theater College, Galya began her career in Tuvan theater. Today, Galina Munzuk is a Merited artist of Tuva and Russia. And since March of 2011, she is also a senator, a member of the Soviet of the Federation of the executive organ of the State government of republic Tyva.
He is Real
There was another aspect of his life that Papa considered to be a gift of fate - the possibility to meet good, kind people.
Among these people, a special place was reserved for Yuri Solomin, his chief partner in the film "Dersu Uzala", who played the role of Arseniev.
There were many candidates for this role. Kurosawa did not know Soviet actors very well, and, mostly, this is what he did: he watched fragments of films with this or that actor candidate. They suggested that he watch the film "Aide-de-camp of His Excellency", where Solomin played the main role. At first the director decided to limit his watching to two parts of the series of five. He watched silently, then he asked to be shown the rest of the series.
Papa recalled how at one of meetings with audiences, Kurosawa was asked this question: "Why did you choose specifically Solomin?" the director answered: "He is real."
Papa believed that the director's evaluation of the actor was very accurate. Beside that, he saw a great similarity between Solomin and his oldest son Mergen. Papa wrote in one of his letters: "Mamazy (that was his loving name for Mama), imagine how much Yuri is like our Mergen! He is just as calm, sedate and at the same time strict. Even his manner is astonishingly similar."
When I personally met Yuri Mefodievich in 1979, I was convinced personally: they were really alike. This similarity was endearing and attractive.
This real actor and a human being - Yuri Solomin - became not just a mentor and teacher for Munzuk, he also became a good family friend.
The last time Papa saw Yuri Mefodievich was in spring of 1999, shortly before his death - in the broadcast "Russian collection", dedicated to the seventieth anniversary of the American "Oscar" film award.
We watched this broadcast as a cassette recording with Papa. The cassette was sent to Kyzyl from Moscow, - from the Permanent representative office of Republic Tyva. The watching was a special event for Papa - incredibly emotional and touching.
We are extremely grateful to the staff of the Representative office for this cassette. Especially to Olga Bervenova, an old colleague from Tuvan TV. As I found out later, Olga, at that time working at the Office, used all her charm to get this recording which was so significant to Maxim Munzuk. She personally met at the Small Theater with its artistic head, National Artist of USSR Yuri Solomin, and only through his intervention and in his name she got this very special cassette from Ostankino, with the recording of this broadcast that had already been aired on the screen - especially for Munzuk.
The broadcast discussed Soviet films which received the most prestigious award of the world in the USA. Including the Soviet-Japanese co-production film "Dersu Uzala", which was awarded "Oscar" in 1976 as the best foreign film. Only the actors themselves never got to see this "Oscar" with their own eyes.
And only 23 years after the prize was awarded did Yuri Solomin see the award with his own eyes. Holding the statuette of the real "Oscar" with both hands, he said , looking directly into the camera:
"Dear Munzuk! I hope very much that you are watching this broadcast. You see, Maxim Maximovich, I am holding it with this hand for myself, and with this one - for you."
After these words, Papa burst into sobbing. Aloud.
Yuri Solomin delivered the copy of this "Oscar" to me in June 2007. I was returning via Moscow from Khanty-Mansiysk after the ecologic festival 'Save and protect". I phoned Yuri Mefodievich, we decided to meet in his office at the Small Theater. We sat there, remembering Papa, and at the end of the meeting Solomin gave me his copy of the "Oscar": "To keep in your family." I gave the statue to the Tuvan Museum for safekeeping.
The Last Curtain
Maxim Munzuk's last stage performance was on 13 March 1998. It was the same stage where he played so many roles when he was young and so full of strength.
On the same day, the Editors' Board of "Center of Asia" was giving a ball at Tuvan State Philharmony - the old theater building - where people who deserved recognition by heir compatriots were awarded diplomas of 'Person of the Year - 2007".
By that time it was not easy for Papa to negotiate the distance form the audience hall to the stage with the several steep steps, but he, leaning on a cane, got up there and accepted the diploma of "Person of the Year" in the "Art" category from the Editor-in-Chief of "Center of Asia" Nadezhda Antufieva. How the whole hall applauded him! They did not let him independently descend from the stage: the chairman of the Veterans of Afghanistan foundation, Leonid Kara-ool took Maxim Munzuk in his arms, and, just like that, carried him in his arms through the whole auditorium.
This title - Person of the Year - was the last one that Munzuk received in his long life. And he was very proud of it, because it was awarded according to sincere letters by readers of the journal, and was a sign of the nation's recognition and love.
Talks with the Departed Ones
Not long before father's death, those who have left this world at various times began to visit him.
Old Tuvan men say that a man who lived a long life, and Papa's life's journey was long - 89 years - becomes a shaman and can speak with spirits of the dead. I believed it and greedily listened to Papa's speech.
He talked with those who left: with his father, his wife, relatives, colleagues-artists. But most of all, he talked with Akira Kurosawa.
At times he even asked for a translator: here, Kurosawa is speaking in Japanese, he must have forgotten that I can't understand it. They especially thoroughly discussed the scene from the film "Dersu Uzala" where the old hunter talks with the fire. And one day Papa said: "Bashky Kurosawa proposed that I do a new film with him." But with every day, Papa's speech became more quiet and hard to understand, then only his lips moved. He continued to talk soundlessly with those who were already awaiting him.
They were born in the same year - 1910 - and left this earth one after the other: Kurosawa on 6 September 1998, and Munzuk on 28 July 1999, in Kyzyl.
On 28 July 1999 Dersu Uzala went off to continue his talks with his Japanese Bashky. And they are shooting his new movie - there