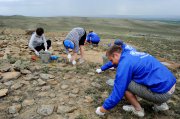 Archeological excavations along the construction of Kyzyl-Kuragino railway, acting under the grant of Russian Geographical Society are going strong. Every week brings new finds. Scientists found a cast bronze bit, consisting of two parts - a part of horse harness. This find helped the archeologists to determine that the kurgan dates to Scythian era - 9th-6th centuries before our era. The scientists believe that the bit was made specially for the burial.
Archeologist Yuri Teterin discovered several artifacts also dating to Early Scythian period - 6th - 5th centuries before our era.
Among the finds were a bone pendant in the form of a moose hoof that served as decoration of clothing. The pendant was crafted in a special way: its surface was covered with ornamentation suggestive of the animal's hair.