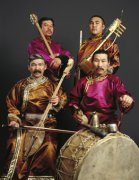 On 20 July in Ulan-Ude in Buryatia, there will be a performance by the prominent Tuvan group Huun-Huur-Tu at the Third international festival "Voice of the Nomads". Baikal-Buryatia".
This group has been called the model of high taste and style, which is why the group became a world-scale star, firmly entrenched within the elite of World music of the planet. "Novaya Buryatiya" presents an interview with Radik Tyulyush - soloist of the group, with which he has been working for six years.
Before that, Radik studied in Buryatia and was a member of various Tuvan ensembles, including "Tyva" and "Yat-Kha".
- Radik, tell us a little bit about yourself: where were you born and grew up, and how did you become involved in music.
- I grew up in a unique place: in Ovyur kozhuun on the border between Tyva and Mongolia next to Ubsunur depression, which is a UNESCO World heritage site. As far back as I remember, since I was a child, I loved to sing for my parents and many relatives who often came to visit us. But the first listener of my new songs was always my younger sister, of whom I always took care,
I have many ties to Buryatia. I graduated from East-Siberian State Academy of Culture and Arts in Ulan-Ude(VSGAKI), I studied at the music institute. By profession I am a conductor, a leader of a music ensemble. The drummer of our group, Alexei Saryglar, also studied at VSGAKI, he was a soloist of "Siberian Souvenir". We have not been to Ulan-Ude in a long time, and we will come to Buryatia with pleasure. I remember my instructors very well, the concert of our Tuvan graduating group was very warmly received at the institute.
Already back then, just like many other young people, I started to listen to the music of Huun-Huur-Tu, I saw all the concerts, and literally absorbed their art. They were an example to all of us. We listened to Huun-Huur-Tu and Yat-Kha, a younger generation of Tuvan musicians, on CD's, an we listened to artists of the older generation on vinyl. At that time I wanted to write and play my own music, I sang in the rock-group "Uer". We even managed to release several discs. Back then I did not even think that one day I will be a member of Huun-Huur-Tu.
- What can you tell us about the life of the group today: how do you work, where do you look for inspiration for your work?
- Today our group Huun-Huur-Tu is part of Alexander Cheparukin's producer company GreenWave Music. (GreenWave Music works with various genres - jazz, rock, contemporary music, electronic music etc. - Author.) we tour a tremendous lot, but as soon as we are free from touring, we go home to Tuva. Maybe it would be convenient for work to live in Moscow, but we are all very attached to Tuva.
We look for new themes and subjects for songs on trips, special field trips. Sometimes people bring us old recordings, and they ask us to sing it and arrange it. We find a lot of material at the Institute of Humanities Research of Tyva. Together with the scholars, we listen to the recordings and pick songs to work with. Keeping the melody, we add some color of our own. We can work up a song our way and sing it in several different styles. There are various methods to get the "Huun-Huur-Tu" style. We work with ancient material that has survived centuries through "natural selection".
- You perform in many countries of the world. Why, in your opinion, is Tuvan music so popular and comprehensible to totally different people?
- Tuvan music is amazingly organic, it mixes well with all traditional musical cultures as well as with contemporary electronic music and rock.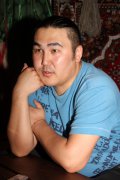 We played and can play with Chinese, Indian, American Indian musicians, and the instruments can be of many types too: alpine horn, Norwegian yodu. Everything adds, it is possible to find a magic nucleus in everything. Our experience shows that the roots of traditional music, in general the roots of all the people of the world are the same. Contemporary urbanized music, ethno-chaos, also has its roots in the ancient times. Music in global understanding makes it clear that we are all alike.
That is why I believe that Tuvan music has no limits in its ability to unite people. And just the phenomenon of khoomei (Tuvan throat-singing. - Author.) - is a very strong art. It is so deep and sensual that nobody can remain indifferent to it. Tuvan melodies preserve all the sources, the beauty of nature since time immemorial. In my opinion, the listeners are attracted by the purity of the melodies. After concerts, people begin to understand that they have to go and see Tuva with their own eyes. Those who have been to Tuva say that it is exactly such a beautiful country, pure sky, steppe and mountain horizons that could produce such songs.
- Are the audiences different in different countries?
- They are the same everywhere. Of course, it is easier if the listener comes already attuned to throat-singing. Such listeners are very sensitive, light, they have, so to speak, a thoughtful attitude to the music. Such listeners are often grateful. After all, language is not important for understanding music: it should touch the heart. The listener should come to a concert with an open heart, ready to admit love. You can't drag somebody to a concert by force, or maybe once, but he won't come for the second time. When the music plays, both the listener and the performer pass some kind of a boundary, and people become richer and stronger.
Our concerts in various states of the USA always are full, sold out, and it does not matter if it is a club or a stadium. We have our audiences in Moscow and in Urals, the concerts are also always packed. We see, in the huge concert halls of Chelyabinsk, Yekaterinburg and Kharkov that they listen to us with great interest. It seems to me that people in Russia have started to unite and to understand real values. For us, the most complicated listener is Tuvan; they understand and know all the nuances, they understand the texts of the songs, and they won't allow anything false.
- What are your expectations from the trip to Ulan-Ude to the "Voice of the Nomads", and where are you going after that?
- Before the "Voice of the Nomads" we have concerts in China and in Morocco, and the "Sayanskoye koltso" (Sayan Ring) festival in Krasnoyarsk Krai. And after Buryatia - we have concerts in Switzerland and Germany. In Buryatia, of course, we expect to have a good performance, and the whole group will definitely visit the Ivolginskiy Datsan (Buddhist temple. - Transl.) I would like to meet with the dean of VSGAKI, Dorzho Dugarzhapov, and (he laughs) I had not had Buryat poza in a long time.
Note
Tuvan music was introduced to the world by Nobel Laureate in physics Richard Feynman. He dreamed of visiting Tuva, but could not get a Russian visa. He astonished Ted Levin, an ethnomusicologist by recordings of Tuvan throat-singing, and Levin organized an expedition to Tuva in 1987. He met four musicians in Tuva, who lived at the edge of town. That was the group "Huun-Huur-Tu", back then still "Kungurtuk". Levin invited the musicians to the USA. Later it was discovered that the mysterious Tuvan word means the splitting of sunlight in clouds into many divergent rays.
The group began to show the world the unique musical traditions of their country. The musicians also included expressions of elements of other styles. In 1992 Tuvans Kaigal-ool Khovalyg, Alexander Bapa, Sayan Bapa and Albert Kuvezin organized their group "Kungurtuk". In 1993, vocalist Albert Kuvezin left the group (organized "Yat-Kha"), and Anatoly Kuular took his place. Alexei Saryglar joined the group in 1995, replacing Alexander Bapa.
In 1993, the group's first disc "60 Horses in my Herd" was released. That started off their endless world tour. Frank Zappa was a great enthusiast and promoter of their music, and invited the Tuvans to his home studio. That summer, "Huun-Huur-Tu" music collected together many of Zappa's friends, who recorded with the Tuvan musicians. Kronos Quartet - the elite of contemporary chamber avant-garde - also recorded several compositions with Huun-Huur-Tu. The cinematic debut of the group was in the soundtrack of Hollywood film "Geronimo - an American Legend" - directed by Walter Hill (Columbia Pictures). Musician Ry Cooder was the co-author in the project.
In more than ten years "Huun-Huur-Tu" recorded and perfromed with prominent musicians of the most varied styles and directions. All the famous music encyclopedias call "Huun-Huur-Tu" the most prominent music phenomenon of Russia in the past decade. In 2004 the group was nominated for BBC World Music Award - the most prestigious award in the world of ethnic music.