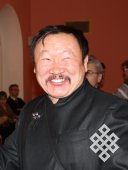 Soon, throat-singers may be equal in their rights with ballet masters and opera singers. On April 6 president of Russia Dmitri Medvedev confirmed the list of directives after a meeting with cultural workers on March 24, 2011. The document contains a significant point concerning Tuvan throat-singers. The ministry of health care and social development and the ministry of culture of Russian Federation were given the task to review the matter of giving vocal artists - Tuvan throat-singers - the right to receive their pension early and to take appropriate measures. The deadline is 1 September 2011.
The question about the necessity of early retirement for throat-singers was raised by a well-known throat singer, Honored artist of Russia Kongar-ool Ondar during a meeting of the president with culture figures.
As a basis for the initiative, he explained to the head of the country about the work of the vocal cords, respiratory system and the resonator system of Tuvan vocalists.