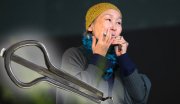 On 30 April 2011 at the House of National Art, a charity concert of Sainkhoo Namchylak and group "Tyva Kyzy" will take place. This concert is dedicated to the construction of a Buddha statue on Mt. Dogee. Our celebrated artists will perform throat-singing in various styles. Each artist will take up her own niche at the performance. Sainkhoo Namchylak performs throat-singing in her own way, the group "Tyva Kyzy" also have their own niche; they perform throat-singing in various traditional styles. There will also be the National artist of Russian Federation Nadezhda Kuular, Honored culture worker of Republic Tyva Opal Shuluu, and Honored artist of Republic Tyva Shonchalai Oorzhak-Choodu.
Sainkhoo Namchylak and the group "Tyva Kyzy" will perform together in the same charity project in Tuva for the first time, even though they have already had the experience of performing together at the UNCOOL festival in 2007 in Switzerland.
Sainkhoo Namchylak - she is a Tuvan singer with an exotic name and mysterious voice. Her singing technique is without precedent - from Tuvan throat-singing style khoomei to dizzying lowest and highest vocal reaches. The singer's unique style organically unites tradition and avant-garde.
She turns to ancient vocal techniques, to the ethnic music of the peoples of Siberia and the North, she practices Tibetan chanting, and at the same time, she uses the newest ways of sound production, including pop and free-jazz manner of vocals.
She audaciously experiments with electronics and various styles, combining contemporary digital technologies with archaic instruments and ways of performing.
Sainkhoo has been called "magical voice of Tuva", and her astonishing and magnetic singing has been compared to voices of nature and the sound of the elements. Each of her performances allows her audience to become acquainted with the most relevant area in the field of European musical space.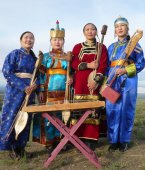 Group "Tyva Kyzy" - the only female folk music group, which performs throat-singing and traditional songs, which had the honor to introduce Tuvan traditional music at elite stages of Europe and America.
The first and only female group in Tuva, which offers all the throat-singing styles. This harmonic multi-tone singing is usually performed by men, and it was prohibited to women. "Tyva Kyzy" dared to perform this ancient art in public in their own unique "women's style".
Group "Tyva Kyzy" was founded in 1998. The idea of creating a female ensemble was published in an article of "Khoomei" journal (1995); this article was authored by Kunashtar-ool Oorzhak. At that time unknown Choduraa Tumat, together with Damiran Ailanmaa, took as her goal to create a female vocal group performing khoomei. They collected the all- female ensemble, with: Valentina Chuldum, Shonchalai Oorzhak, Tatiana Saaya, Ailanmaa Damiran, Choduraa Tumat, Azimaa Kuzhuget and Ailan Ondar. They named the group "Tyva Kyzy"" on the suggestion of Kunashtar-ool Oorzhak and Shonchalai Oorzhak. In July of 1998, "Tyva Kyzy" performed as an ensemble at the International Symposium Khoomei in Kyzyl; afterwards people said that their appearance on the stage was a brave thing to do by fragile women.
Since the time Otkun Dostai started leading the ensemble, intense work began for the artistic leader Choduraa Tumat over the repertoire and the enthusiasm of the members of the ensemble , which raised the prestige of female throat-singing. To some degree, the ensemble "Tyva Kyzy" became one of the most interesting phenomena in khoomei. The group received high appreciation for the originality of their repertoire and musical instruments.