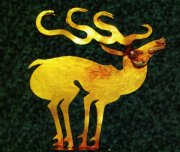 In May of 2012, there will be an exhibition of the unique finds from the Scythian era burial, found in Tuva in 2001 by archeological expedition of the Hermitage, at the National Museum of Hungary, according to information of ITAR-TASS.
The agreement about exhibiting the Scythian gold from Center of Asia in Budapest was concluded by the Honorary Director of the Hungarian National Museum Fodor Istvan and the General Director Laszlo Csorba. Work has started in Kyzyl to prepare this export exhibition. Only a small proportion of the objects found in Tuvan kurgan Arzhaan-2 will be taken to Hungary. The Hungarians will see objects found in Tuvan kurgan Arzhaan-2 - jewellery artifacts, chains and pendants made in the Scythian animal style, coins, dishes, weapons, knives, quiver for arrows and other belongings of the royal personages who lived in the 5th century before our era.
The studies of kurgan Arzhaan-2 by the Hermitage expedition led to stunning results - an intact burial of members of high social status of the era of early nomads was discovered. The valuables became the evidence for the fact that the Tuvan population of early Scythian era had jewellery and goldsmith mastery of the highest degree. There was 20 kg just of gold artifacts. The cost of just one of the objects from this collection - a filigree gold figure of a deer on a hair comb was evaluated by experts at two million dollars. All these decorative objects were taken to the Hermitage for restoration, and then given to the Peterburg museum for temporary safekeeping. In the summer of 2009, after long talks, 8.2 thousand priceless artifacts from the kurgan were returned to Tuva from the Hermitage.
Several years ago, the exhibition of Scythian gold from Tuva was shown with great success in Germany.