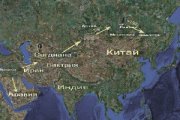 Buryatia is located on the Russian border, next to Mongolia. The history of our region is for that reason densely interwoven with that of other nations, cultures, and languages.
Buryats and Mongols used to have the same Old Mongolian script. Its old cursive can be seen to this day on various souvenirs as an ornament.
Just like the other languages of other peoples of the USSR which did not have their own writing system, the Buryat language was systematized in 1931 into Latin alphabet, and in 1937 into the basis of Russian alphabet. But the Buryat nation was not illiterate. Old Mongolian script was not used only for religious purposes, but in secular activities of the Buryats in the steppe Dumas as well. These organs of Buryat self-rule were established according to "Constitution about ruling other nations" in 1822. The Taishi ruled the Buryats under the control of East Siberian administration. The Czarist authorities liquidated the Steppe Dumas even before the revolution. The documents from the Dumas are kept in the National Archive of Buryatia. They are written in beautiful Mongolian cursive.
Inform polis online. Translated by Heda Jindrak