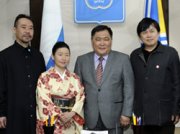 Today, on 14 March 2011, Japanese musicians came to Kyzyl, despite the destructive earthquake which took place in their native country.
On 18 March 2011 at the House of National Art, a major concert of Tuvan-Japanese music, "Music without borders", will take place, dedicated to the opening of the regional public organization "Center of Tuvan - Japanese friendship "Kargyraa".
The chief founder of this organization is the famous musician Otkun Dostai.