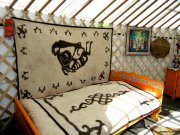 The former successful mathematics teacher of Elista intermediate school No.3, Ekaterina Adyayeva, after she left for her well-deserved retirement, was not confused, as so often happens in our times. Since she knew how to do practically everything at home with her own hands, she became involved in in learning folk crafts - Kalmyk embroidery and a type of handicraft that is very exotic today - felt-making.
- I became enthusiastic about felt-making the first time I saw it done, - says Ekaterina Lidzhievna. - in winter of 2009, together with doll-maker Elena Lukina,, we took part in an international symposium "The art of felt in the Turkic world: history and the present", which took place in Kazan.
Not just folk craftsmen were there - there were scientists, scholars and officials, who were all seriously interested in the rebirth of felt-making.
It was sad to hear that this type of decorative-applied art belongs to Bashkirs and Tatars. After all, this is a traditional occupation of many nomadic peoples, including the Kalmyks.