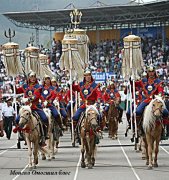 This year Mongolia will be observing several noteworthy historical dates. On the occasion of one of such anniversaries - 2, 200 years of formation of Mongolian state - on 26-27 August there will be a world festival of peoples of Xiongnu descent, under the aegis of President Ts. Elbegdorj.
At this time, 33 countries have been invited. As part of the project, a wide spectrum of cultural, sports and other activities of people of Xiongnu descent will be organized.
There are parallel plans for a conference of world leaders, meeting of young leaders for the purpose of exchange of experience in the field of citizens' participation in the development of the region.