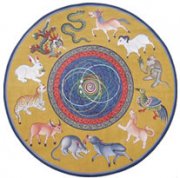 Why does the New Year in various countries have different names? Professor Nikolai Abayev has his own opinion about it.
- It is necessary to realize that this holiday of the nomads originated long before the advent of Buddhism, - said the professor. - And the first herdsmen-nomads based their calendar on the realities of life. During many centuries, they attentively observed natural events and seasonal life cycles of various animals.
As a result of their observations, our ancestors determined, for example, that the fertility of various animal species cyclically increases. So, in the Year of the Hare, in correspondence with the 12-year and 60-year cycles, the fertility and the population of Hares sharply increases, but in the Year of the Bull (or Cow), the fertility of these animals grows, etc. so the Year of the Hare, Sheep, Horse, etc. showed up in the calendar of the nomads. And accordingly, people born in those years show the characteristics of these animals - the Masters or totems of those years.