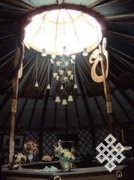 The long awaited project of the Year of Tourism - ethnocultural complex "Aldyn Bulak" finally opens.
The ceremonial opening of the yurt-restaurant in ethnic style will take place on 25 February. In the design of the yurt, the main emphasis was on the interior , to reflect the unique history and culture of our republic. It is based on elements of Tuvan traditional way of life and on the riches of the Scythian time - on the objects found in the kurgan burials "Arzhaan-1" and "Arzhaan-2". The walls are decorated with various images of the Scythian time. The yurt is divided into 16 zones, and calculated to seat 100 people.
The diameter of the yurt is 15 meters, the walls are 3 meters high, and the total height of the yurt is 5 meters. Beside that, there is a stage for ceremonial activities and cultural programs.