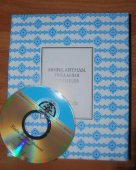 A new publication by Tuvan Institute of Humanitarian research of Government of Republic Tyva "Tuvan Myths, Legends and Tales" of a 60-volume bilingual academic series "Pamyatniki folklora narodov Sibiri a Dalneho vostoka" (Volume 28) with a compact disc (Novosibirsk, Nauka, 2010) has now been released.
The series was founded by a member-correspondent of Russian Academy of Sciences A. B. Soktoyev.
The participants in the preparation of this volume were Institute of Philology SO RAN and Tuvan Institute of Humanitarian Research of Government of Republic Tyva. The editing, and preparation of the texts, notes, commentaries and index by N.A. Alexeyev, D.C. Kuular, Z.B. Samdan, Z.M. Yusha.