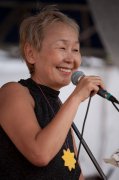 She had two names. Only one remained - a mysterious one.
She herself is a mystery.
Avant-garde. Intriguing. Non-standard. Not subject to aging.
Improviser and experimenter, constantly surprising others and able to surprise herself.
Sainkho Namtchylak, who sings in voices of winds and hurricanes, stars and birds. She makes drawings with tea and coffee. She writes poems without punctuation and without rhyme - by a stream of consciousness.
Having conquered world fame, she for a long time remained misunderstood and unrecognized in her own native country - in Tuva. And it made her suffer. Even mysteries can suffer.
Nadezhda Antufieva, Center of Asia. Translated by
Heda Jindrak