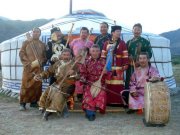 Dear colleagues!
A special issue of "The New Research of Tuva" #2 of 2017 will be released in June. It will be dedicated to "Contemporary studies of the Tuvan music". Doctor of Culturology V. Yu. Suzukey (Tuvan Institute for the Humanities and Applied Social and Economic Studies) will guest edit the issue.
During the last decades, Tuvan music revealed itself to the World Music and cemented positions in world performer practices. It also attracts huge interest as an object for scientific studies. Researcher should feel no lack of thesis and studies both of Russian and foreign scientists devoted to the Tuvan music. Nonetheless, scientific study of musical art of Tuvans is still in initial stage. Many aspects of this unique people's phonation techniques are still understudied. Consequently, new studies performed at different positions and aspects always attract a strong interest.
Proposed list of topics for the issue:
· Musical culture of Tuva as an object for scientific studies;
· Genre diversity of contemporary Tuvan music;
· Tuvan khoomei and its impact on world musical culture;
· Centers for khoomei studies in different countries;
· Tone characteristics of Tuvan music;
· World-known stars of Tuvan music vault;
· World music and Tuvan music.
Each article should not exceed 30,000 characters (incl. spaces) in Russian or English. The submission deadline is March 1, 2017.
Beside the indicated topic we continue accepting articles on topical priorities of the journal, including sections "Scientific life", "We read, we cogitate (abstracts and reviews)".