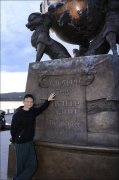 Internet magnate and philanthropist Jack Ma - mainland China's richest man - visited Siberia's Tyva Republic as he admitted that his dreams for his business empire Alibaba Group is not yet realised.
The tycoon was hosted by the president of Tyva Republic Sholban Kara-ool, who met him at the airport in Kyzyl. He visited the National Museum and saw priceless artifacts - including finds of gold - from the 'Arzhaan-2' burial mound.
'This is absolutely amazing,' he said. 'I imagined what kind of people lived here, worked, guided ... I am sure that everyone who is living in this land must feel the energy of their ancestors, and through it, to strive forward into the future.'
At a meeting with young people, he said: 'My personal dream is realised, but the horizons of Alibaba has not yet been achieved.'
In the National Theatre he was guest of honour at a joint concert of Tyvan artists and artists from Inner Mongolia and Beijing Theatre.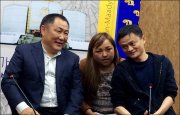 Sholban Kara-ool said: 'Jack Ma is the great friend of Russia. He was a member of the St Petersburg Economic Forum, had a meeting with the President there. After I met with him in St. Petersburg, I invited the world famous businessman to us in Tyva.
'Modest and at the same time an outstanding personality - this is Jack Ma. I think his great experience and outlook should be of interest to everyone.' He added: 'Jack Ma is very talented man and a businessman, an outstanding leader, the whole world admires his success.
'Inviting him to our Eurasian Club, I expressed the desire of thousands of young Russians, who, I am sure, will be happy to see and hear the person with whom linked the coming global changes in IT-technologies, and perhaps even to debate with him.'
The forum 'Intelligent Gold of Eurasia', is to be held in Tyva on 18-21 September.
According to anonymous source, in the evening Jack Ma and Sholban Kara-ool flew to an undisclosed location by helicopter.
Sholban Kara-ool posted on his Facebook with the caption: 'I'm the same as you. I grew up in an ordinary family, but with my work have achieved success.'
Jack Ma - or Ma Yun - is the 18th richest man in the world, and the first mainland Chinese entrepreneur to appear on the cover of Forbes. He has an estimated net worth of $29.7 billion according to Bloomberg Billionaires Index.