We are happy to invite you to the first virtual exhibition of Professor Yuri Popkov, our editorial board member and Doctor of Philosophy, Deputy Director of the Institute of Philosophy and Law of the Siberian Branch of the Russian Academy of Sciences. He is an ethno-sociologist, well-known both in Russia and internationally, frequently visiting Tuva with lectures and research expeditions. He is also known as a person with a delicate soul who hardly ever parts with his camera. Although we are not professional photographers, we like the work of our colleague very much. We believe that this is what a true researcher should be like - always enthusiastic, versatile, creative..
The exhibition is devoted to the Day of Science in Russia.
Editorial Board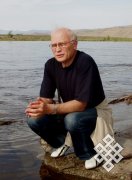 As a professional ethno-sociologist I often have to travel – both in Russia and abroad. I use this opportunity not only for my research but also for extensive observation through the lens of my camera of the surrounding environment and everyday life. Besides, my photos have recently become useful visual illustrations of some of my research results. For instance, they help to document the new life of traditions of various peoples, their close entanglement with modernity.
In the conditions of globalization the local features of various regions and cultures become more and more important. Their main value lies in their distinctive nature. We can just take a close look at what surrounds us in order to see the unmatched beauty of different places, both of the macro and micro-world. It is this local beauty in its various manifestations which makes up the multi-colored bouquet of the natural and cultural wealth of Russia.
For this exhibition I have selected a series of photos, mostly landscapes, which, in my opinion, convey the unique beauty of very different places in our country. They are grouped into ten mini-collections. Every collection focuses on a specific theme (autumn, fog, plants, shores, snow-frost, luminaries, churches, winter views, blossoming landscapes, water). At the same time, the photos convey gradations within theses themes (different kinds of autumn, various fogs, different shores …). The local is unique, as is every moment in time. But, at the same time, it is something that is quite recognizable and acceptable. It is these very moments that generate love for one's home grounds which, I believe, is essential for loving one's country, one's Motherland.